Contact Us
Wuxi Nsteel Marine Equipment Co Ltd.
Mobile : +86 13761721518
Email : [email protected]
Add : Room 1101, Lixiang chengshi ,Huishan district Wuxi China-214177
Deck Cranes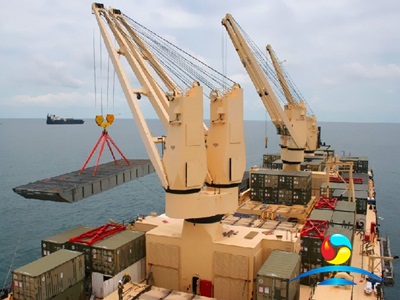 Deck Cranes

Deck crane is a machine mounted on a ship's upper deck. This kind of crane structure is compact, makes more deck area to be used on a ship, and it has little effect for sight on the bridge. Deck crane has the advantages of simple operation, high loading and unloading efficiency, flexibility and no tedious preparation before operation.
Deck crane commonly divided into fixed rotary crane, mobile rotary crane and gantry crane. The transmission mode has two kinds, the electric power transmission and the electric - hydraulic transmission.
Fixed revolving crane
These are the most widely used, and can be operated independently or in pairs on the starboard and starboard sides. The lifting weight is usually 3 ~ 5 tons. On multi-purpose ships, single cranes are required to lift 20 ft containers and double cranes to lift 40 ft containers (30 tons).
Travelling slewing crane
The travelling slewing crane is often used when the crane span is large and the crane boom is not too long. There are two kinds of mobile rotary cranes: transverse movement and longitudinal movement.
Gantry cranes
This type of crane is widely used by all container ships and barge carriers, usually of the quadruped type or C type. There is an extendable boom, a lifting rail and a movable bridge and bridge. The horizontal main beam of the bridge rises above the stacked containers on the deck and is equipped with automatic positioning device, which enables the containers to be placed accurately in the compartments or stacked on the deck when loading. There are more gantry cranes on barges than on container ships, capable of lifting hundreds of tons.